Cart (

0

)
Recently Added

0

Item
Total  

$0.00
The item you just added is unavailable. Please select another product or variant.

Cart (

0

)
Recently Added
Total   $0.00
The item you just added is unavailable. Please select another product or variant.
SELF EXPRESSION REVOLUTION
Sub-Cultures bring people together of all races, ages, sexual orientations, gender or gender identities, disabilities and styles. With diversity in branding and product selection, we can offer our customers the freedom to express their unique personalities.
BE TRUE TO WHO YOU ARE
Our makeup line is 100% Cruelty Free, Gluten Free, Vegan and Paraben Free
We want to help you explore and develop your own talents as makeup ARTISTS, so we created our Free Online Makeup Course to share techniques. We encourage you to be creative with what we show you and hope that you often break the rules.
CREATE THE PERSON YOU WANT TO BE
Our makeup is designed with the unique needs of special effects makeup artists and performers in mind. We've spent years working in haunted houses and on horror films, and alongside musicians and burlesque performers to develop products that are long wearing for stage and film use, but gentle and easy to wash off.
Our makeup is worn by performers all over the world, including Dan Sperry Anti-Conjuror, Shelly d'Inferno & Kimberly Freeman of One-Eyed Doll.
SUBVERT POPULAR CULTURE THROUGH SUB-CULTURE
We cater to a variety of alternative styles and sub-cultures. We've been featured in Enchantment Box, Glamour Ghoul box and Creeper Crate. You can find our makeup at New Profanity on Melrose and several other independent stores around the U.S.
We believe in using our platform to educate and give back whenever possible. We do everything we can to support independent artists, musicians and other small businesses.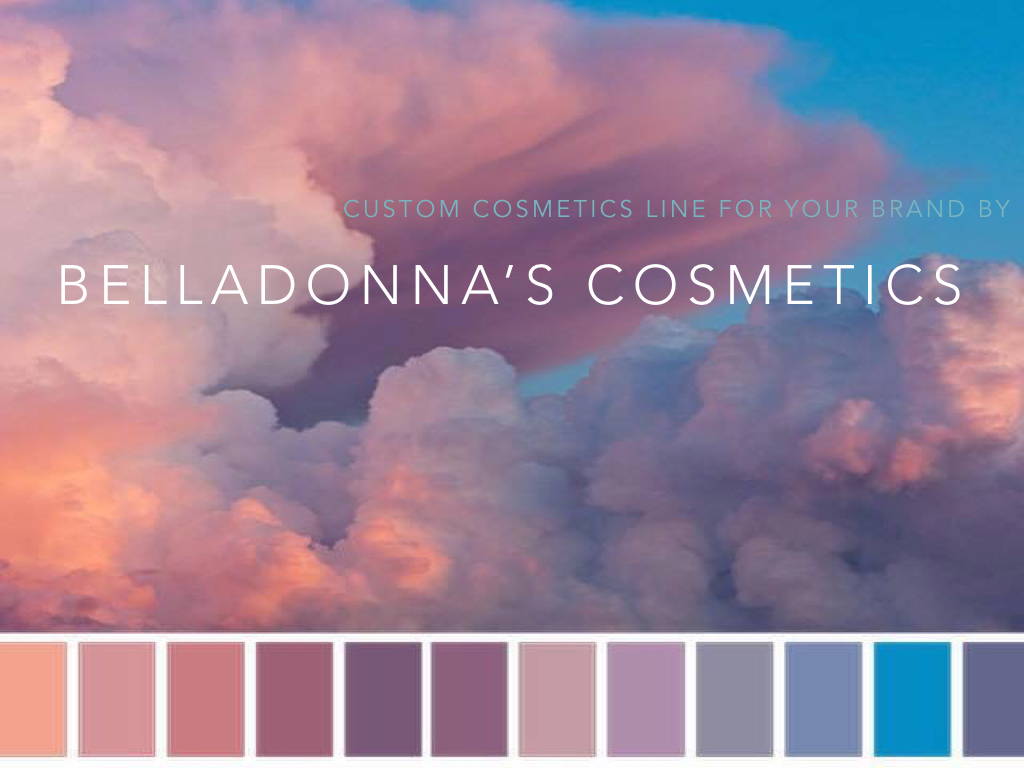 We offer a full line of lipsticks, pressed and loose eyeshadows, highlighters and effects makeup including fake blood and scar wax. We also have the ability to make airbrush makeup, gel eyeliner, alcohol activated paints and water activated paints.
We offer custom packaging and custom design to fit branding from simple logos to full on graphic prints. Custom displays are available. We do social media promotion and assist with marketing strategies for sister lines upon request.
We've recently launched the sister lines, Doll Parts Cosmetics & Occult Cosmetics which are moving fast by repeating the lessons and methods we've used to grow Belladonna's Cosmetics over the last 8 years. Profit margins for cosmetic lines are often more than 98%.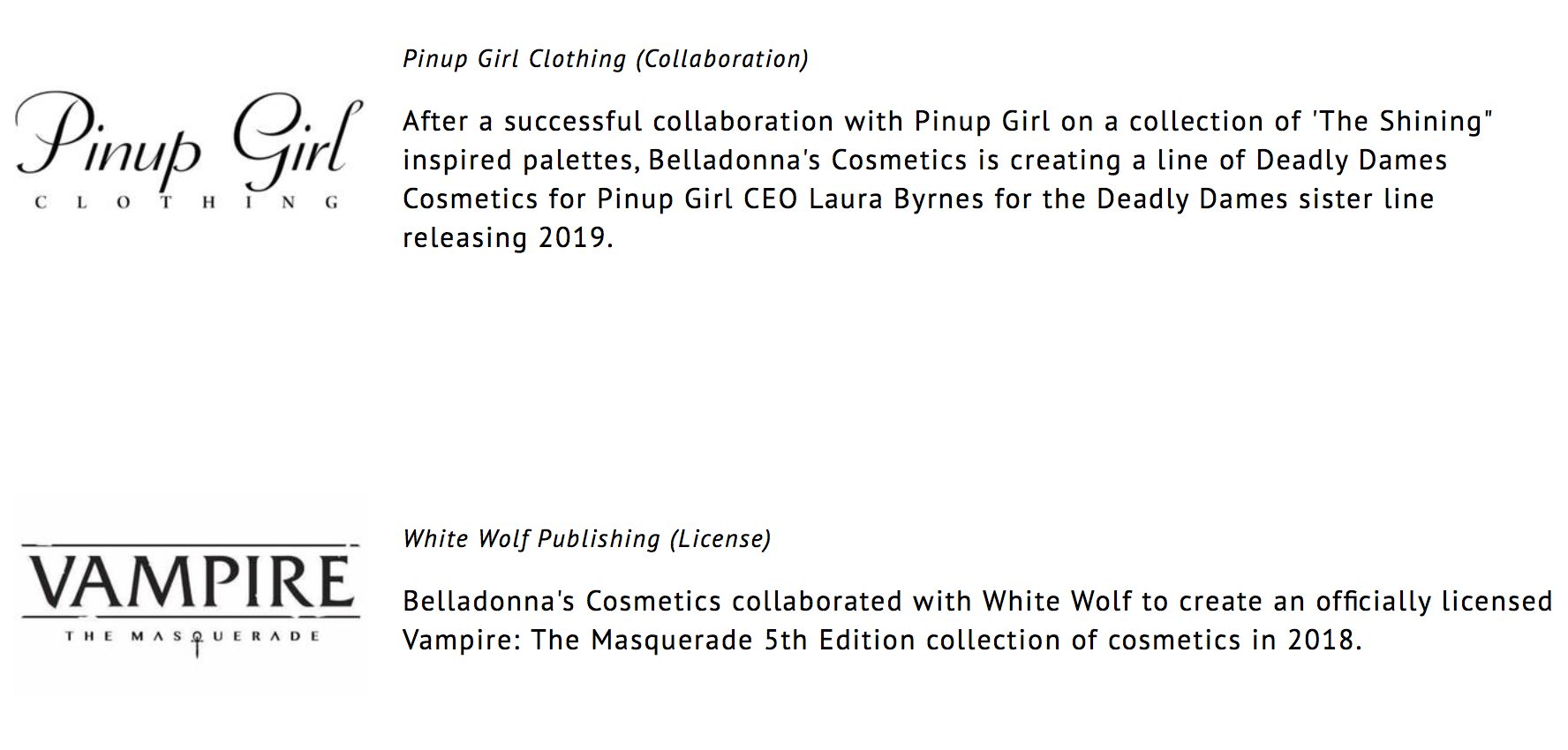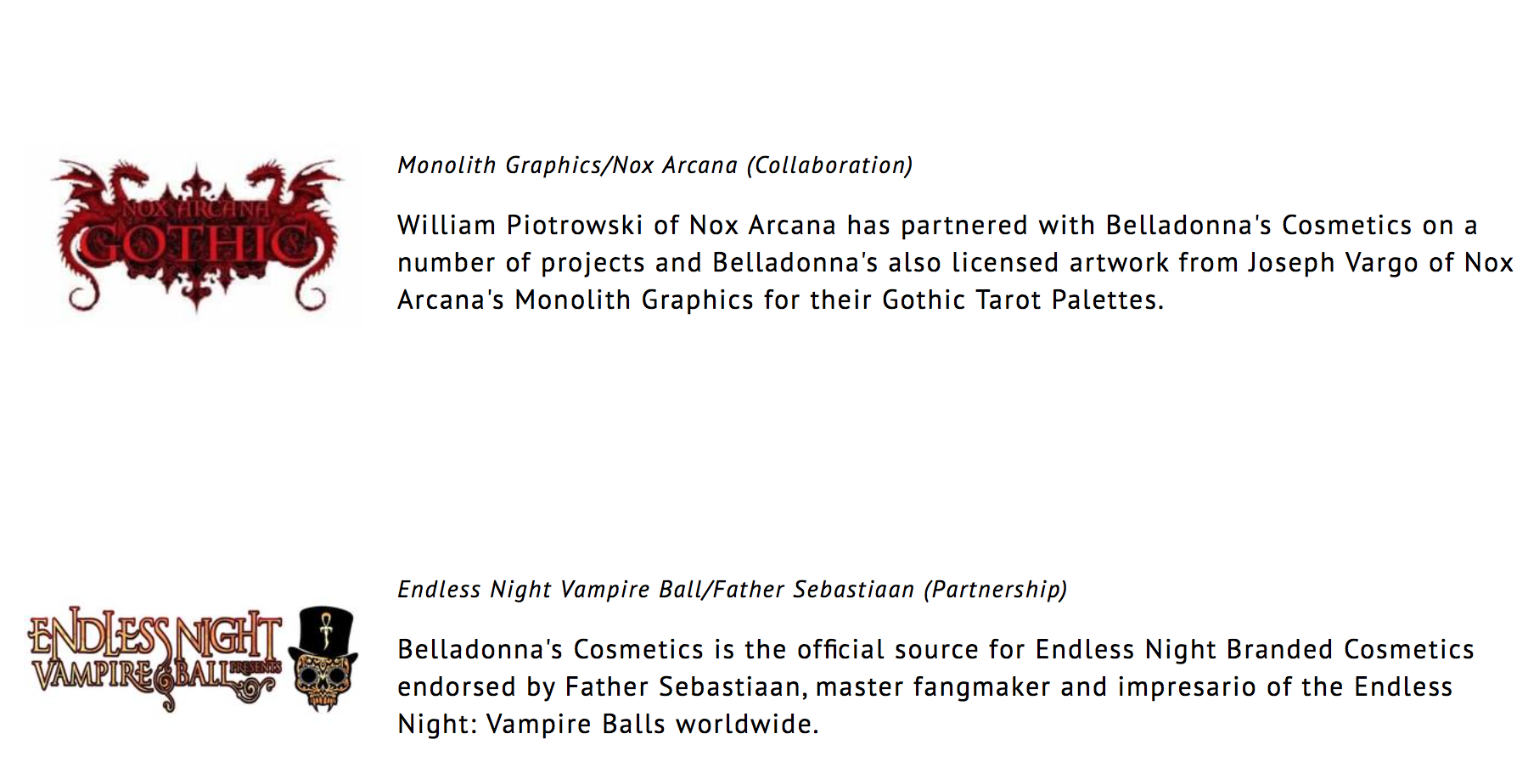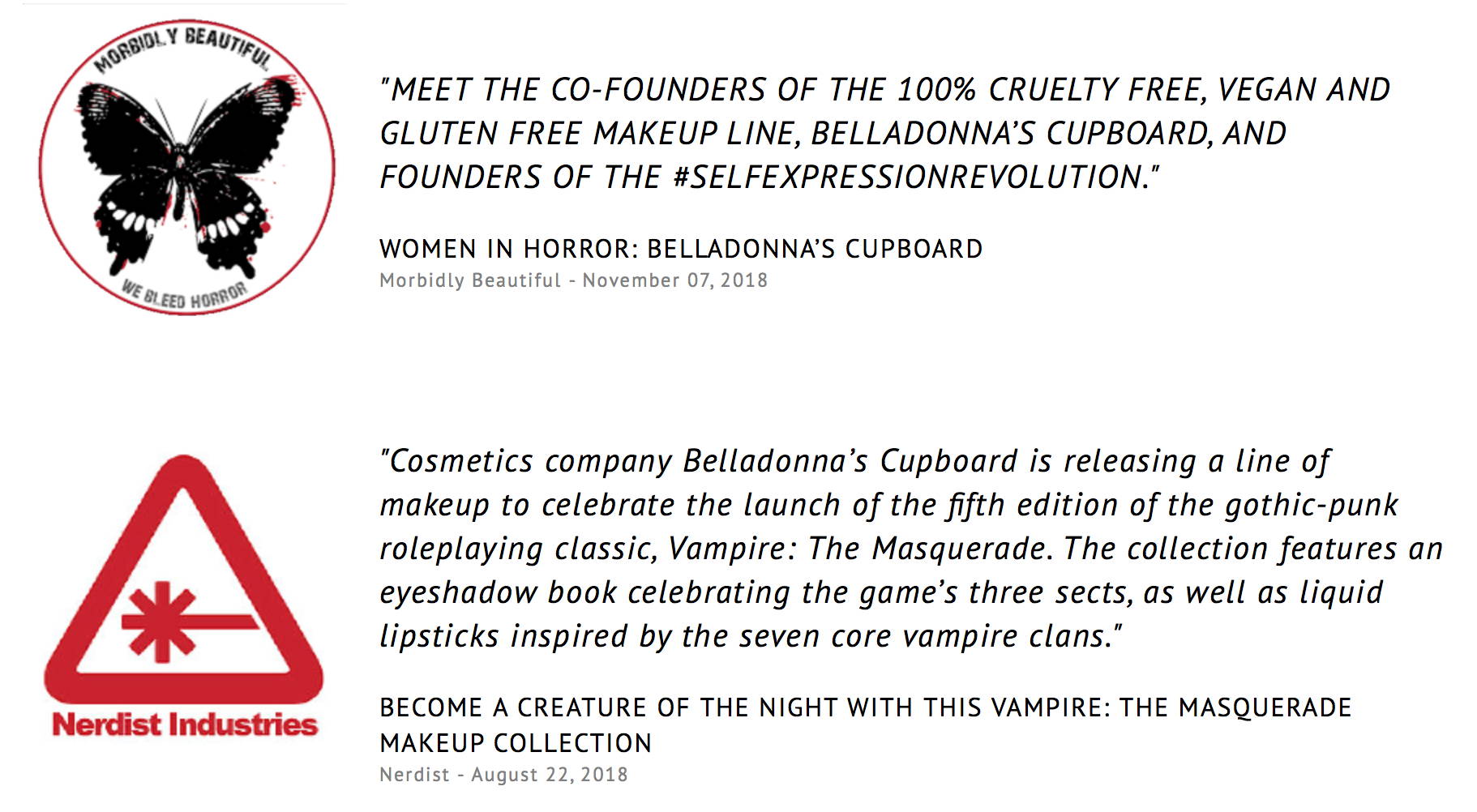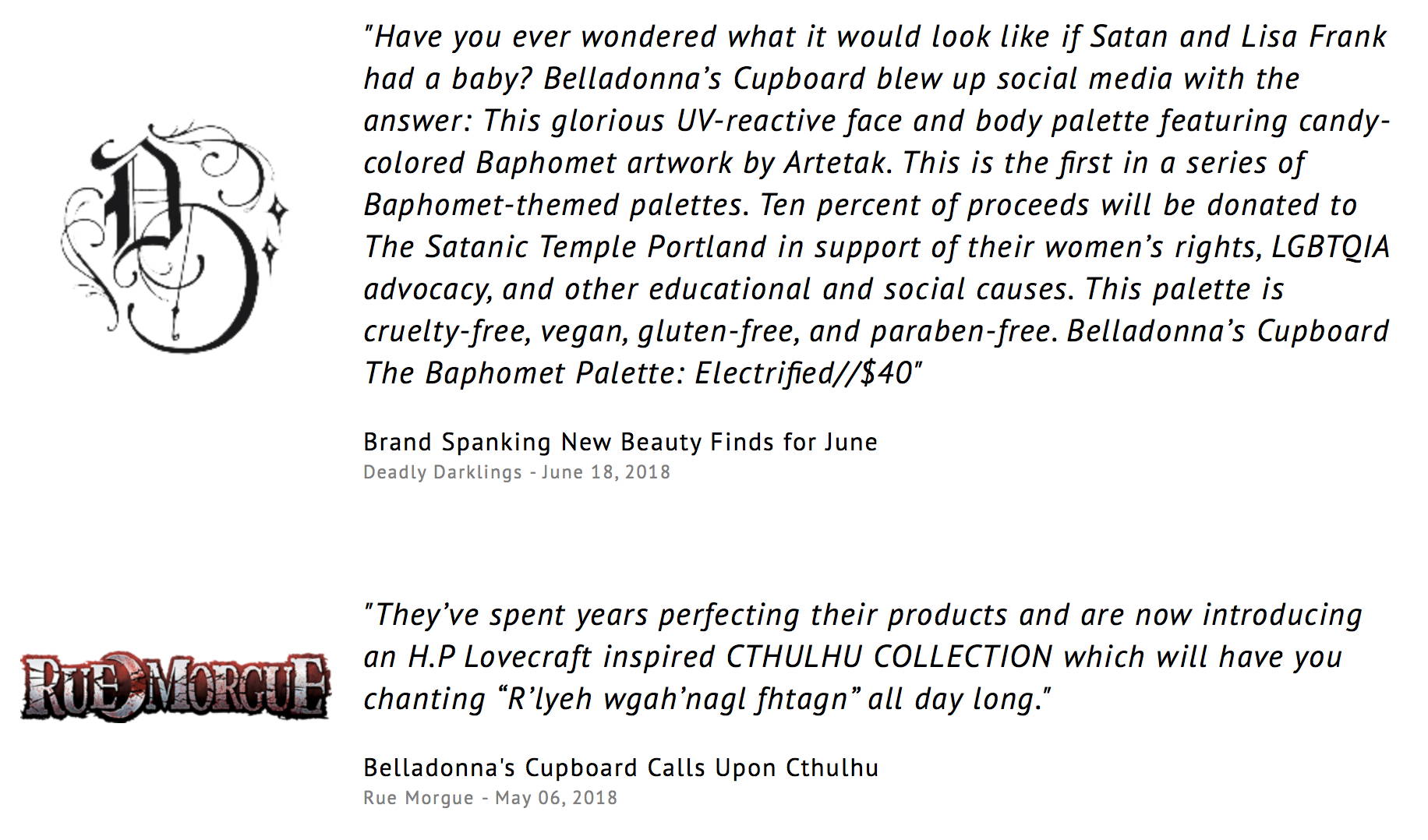 We appreciate the support and feedback from our community, we believe the strongest endorsement we can make is to stand by and use our own products. We make the products that our family and friends use daily and for performances, film, etc.
In the spirit of community building & giving back, many of our products offer an educational component as well as a portion of the sales goes to good causes. Featured causes for donation have included Black Lives Matter, The National Coalition Against Domestic Violence and more.
CONTACT US TO GROW WITH US
Thanks!
This field is required
This field is required
This field is required